When it comes to decorating your bedroom, the walls are the perfect canvas to start with. SANVO, a dedicated manufacturer and seller of various chemical products, offers an outstanding range of high-quality bedroom wall painting products that can give your bedroom a brand new look. Let's explore some of the benefits of using SANVO's interior wall paint.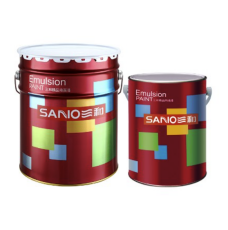 Products That Are Eco-Friendly And Risk-Free
Since here at SANVO we are aware of the significance of both safety and environmental responsibility, we have ensured that all of our interior wall paints are safe for the environment and free of any potentially hazardous ingredients. We take great satisfaction in the fact that we are able to offer our customers solutions that not only improve the quality of their living environment but also put their health and well-being first.
A Wide Spectrum of Colors and Surfaces to Explore
The interior wall paint offered by SANVO is available in a variety of colors and textures, making it suitable for a wide variety of decorating styles and preferences. You are able to find the appropriate hue to turn your bedroom into the space of your dreams, regardless of whether you want it to be traditional and sophisticated or daring and modern. You may also create one-of-a-kind patterns and designs on your walls by using a range of textures, which will give the appearance of depth and dimension.
Simple in Its Execution
The simplicity with which it may be applied is one of the most significant benefits offered by the interior wall paint offered by SANVO. Because of the superior coverage and adhesion capabilities of our paint, you can be sure that the finish will be smooth and uniform. It is also simple to clean and maintain, making it an excellent option for spaces that get a lot of foot activity, such as bedrooms.
Conclusion
In conclusion, the high-quality wall painting supplies offered by SANVO are a fantastic option for everyone who is interested in making changes to their bedroom. You may have the bedroom of your dreams in no time at all if you use materials that are environmentally friendly and risk-free, that come in a variety of colors and textures, and that are simple to apply. Check out SANVO's website to explore our range of interior wall paint products and find the perfect fit for your bedroom. Trust SANVO to provide you with the best quality interior wall paint products!