Introduction to SANVO
SANVO is a well-known brand dedicated to the development, manufacturing, and sales of various aerosol, silicone, synthetic adhesive, lubricant, waterproof construction coating, and paint products including black gasket maker. With seven professional production bases, we provide high-quality products to our customers worldwide. Our products are specifically designed to meet the needs of business customers such as agents and dealers.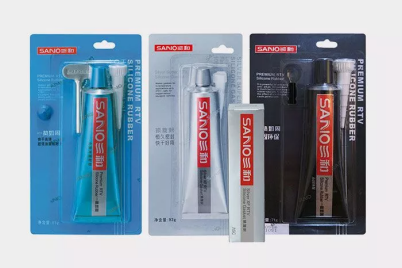 It gives us great pleasure to present our most recent creation, the Black Gasket Maker. This item has been meticulously developed to produce a striking appearance while also offering a long-lasting seal for engines, gearboxes, and several other automotive applications. Our Black Gasket Maker is an RTV (room-temperature vulcanizing) silicone sealant that is simple to apply, hardens in a short amount of time, and produces a seal that is dependable and long-lasting.
Benefits Associated with Utilizing SANVO's Black Gasket Maker
In comparison to other gasket makers now on the market, our Black Gasket Maker possesses a number of distinct advantages. Because it can tolerate temperatures of up to 260 degrees Celsius (500 degrees Fahrenheit), it is an excellent choice for use in high-performance engines. In addition, it is resistant to high temperatures. The second advantage is that it is resistant to oil and can stop leaks that are caused by oil or other fluids. Thirdly, it is watertight and can prevent water from seeping into the engine or gearbox, which in turn protects those components from rust and corrosion. Last but not least, it is simple to apply and cures rapidly, which together reduce the amount of time the vehicle is out of service.
Examples of How Black Gasket Maker Can Be Used
The Black Gasket Maker is adaptable for use in a diverse selection of processes and procedures across the automotive sector. Sealing gaskets, valve covers, oil pans, timing covers, and water pumps are all possible applications for this material. In addition to that, it can be utilized for sealing exhaust manifolds and flanges on turbochargers. Additionally, it can be utilized to seal various components of automobiles, such as transmissions, differentials, and transfer cases, amongst other possibilities. Because of its adaptability, it is an excellent product for use in a wide variety of automotive applications.
Conclusion
In conclusion, SANVO's Black Gasket Maker is a high-quality product that provides a durable seal for engines, gearboxes, and other automotive applications. Its resistance to high temperatures, oil, and water makes it an ideal product for high-performance engines. Its ease of application and quick cure time makes it a reliable and efficient product for automotive mechanics. Contact us today to order our Black Gasket Maker and experience its outstanding performance!