Many people overlook and are even unaware that grout is a very porous material. The grout lines in your home will absorb any liquid that comes into contact with it, getting slowly taken over by the grease and grime of daily use, and making beautiful tile lose its luster. That is why it is important to seal any grout in your home using a sealant. To do this, you will need a grout sealer. A grout sealer is used to prevent stains, germs, and moisture from penetrating the spaces between the tiles that are filled up with tile grout. Here, we give you detailed information about grout sealing and how to seal the grout lines in your home tiles. Let's get started.
Does grout need to be sealed?
Yes, absolutely.
On the one hand, if you do not seal your grout, it will absorb water, stains, and bacteria, which can be harmful in the long run. A grout sealer is vital as it will protect your grout from the water, making it water-resistant. This, in turn, will repel moisture and any germs buildup. A grout sealer also helps prolong your grout's texture, look, and consistency. It protects it from mold and mildew buildup, which can be hard to clean up. With a grout sealant, you are assured of a pristine and good-looking tile finish.
On the other hand, if you want to change the look of your room, or you are bored of the color of your grout, you can use SANVO colored grout sealant. It is so easy to use and saves money from re-tiling or re-grouting your floor.
How to apply grout sealant to shower tiles?
Tiles can easily lose their luster due to grout. A once beautiful-looking tile wall can look bland and unappealing to the eye once it accumulates grime and grease when used daily. Therefore shower tiles require a regular wash and cleaning to maintain their shine.
You can apply grout sealer in kitchen, washroom, living room and bedroom, like tile walls, ground, washbasin, sink,etc. Below, we give some tips to follow when sealing grout in the shower. Watch video to learn how to use.

1. Before any sealing is done, make sure all grout is dried. New grout should be sealed at least after 48hours to give it time to dry up. Any old grout should be cleaned and left to dry before applying a sealant.
2. Apply your sealer on the grout lines with a brush, small roller, or foam sponge, ensuring the grout lines are covered uniformly and completely.
3. Let the sealer sit for about 10 minutes before removing any excess sealer using a damp towel. Afterward, test the sealant's effectiveness by spraying a few drops of water on the grout line surface.
4. If the applied water does not bead up, it has failed the test, so reapply the sealer. But before doing this, wipe off the sprayed water and give it 30 minutes before reapplying the sealer.
With the above steps, you can seal the grout lines in your shower. Also, always clean grout joints frequently and keep your shower tiles clean to maintain their pristine condition.
Best sealer for grout: SANVO colorful grout sealant
There are different grout sealers in the market, so it may become hard to settle on the best one to use. SANVO colorful grout sealant is one of the best sealers to go for. This sealant has a unique glaze effect that is long-lasting and decorative. The two-component product (new polymer and new nanomaterial) is used to seal bathroom tiles, bathtub tiles, porch tiles, balcony sinks, corridor tiles, etc. it is a multi-purpose sealant that is suitable for all floor tiles.
Furthermore, SANVO's colorful grout sealant is waterproof and mold-proof. It means it provides an anti-fungus feature that prevents fungus growth on flooring. It is also easy to apply and comes in many colors.
Next time you look for a durable and long-lasting sealant, go for SANVO colorful grout cleaner.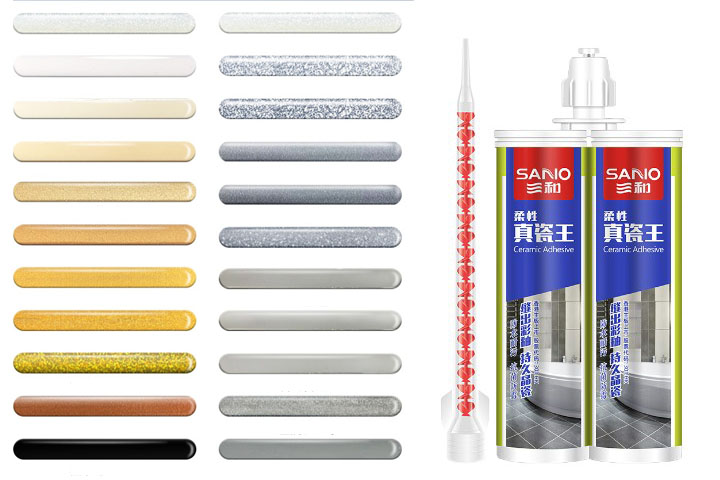 With the right grout sealant, you can always get your tiles to look pristine. Cleaning them would not be such a tough task.
SANVO is a hardware lubricants sealants & adhesives manufacturer that has been in this industry since 1994. It is your one-stop-shop for sealants, adhesives, aerosols, and coating for your hardware decoration and construction. Our company creates custom options that cater to specific applications and satisfy diverse needs. Get to learn more about us through our website at SANVO