As a professional manufacturer of aerosol, silicone, synthetic adhesive, lubricant, waterproof construction coating, wood paint, and other related products, SANVO is dedicated to providing high-quality and innovative solutions to its customers. With seven professional production bases, our brand has established itself as a reliable and trustworthy name in the industry. In this promotional article, we will be focusing on one of our most popular products, SANVO's Interior Latex Paint. This waterproofing coating provides long-lasting protection for interior walls and is an excellent choice for those who are looking for a durable and affordable option.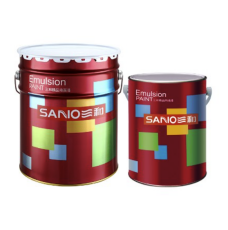 Introduction
Our Interior Latex Paint is specially formulated to protect your walls from water damage, stains, and fading. It provides a smooth and even finish, enhancing the aesthetic appeal of your interior space. With our commitment to quality, you can rest assured that our product will meet your expectations.
Features and Benefits
Our Interior Latex Paint has several features that set it apart from other options in the market. Firstly, it is highly resistant to water and moisture, making it ideal for bathrooms, kitchens, and other areas prone to water damage. Secondly, it is easy to apply and dries quickly, allowing you to complete your painting project in no time. Thirdly, it is durable and provides long-lasting protection against wear and tear, ensuring that your walls look beautiful for years to come.
How to Use
Before applying our Interior Latex Paint, ensure that your surface is clean, dry, and free of any loose or flaking paint. Use a primer if necessary. Stir the paint thoroughly before use and apply it using a brush, roller, or spray gun. Apply a second coat if necessary, waiting for the first coat to dry completely before doing so.
Commercial Benefits
Our Interior Latex Paint is an excellent choice for agents and dealers who are looking to offer their customers a reliable and affordable option for waterproofing their interior walls. With its long-lasting protection and easy application, it is a product that is sure to satisfy even the most demanding customers. Additionally, SANVO is committed to providing exceptional customer service and support, ensuring that our partners have everything they need to succeed.
Conclusion
In conclusion, SANVO's Interior Latex Paint is a high-quality and affordable option for waterproofing interior walls. With its superior features and benefits, it is sure to meet the needs of even the most discerning customers. If you are an agent or dealer looking for a reliable partner in the industry, SANVO is the brand for you. Contact us today to learn more about our products and services.